30 Best Secure Android Browsers To Browse Web Securely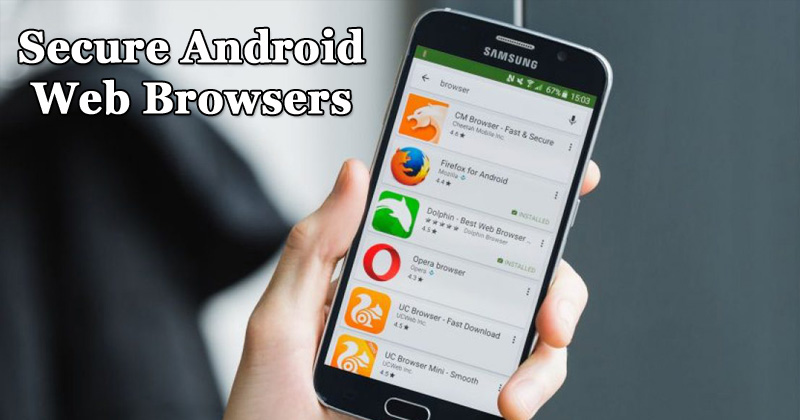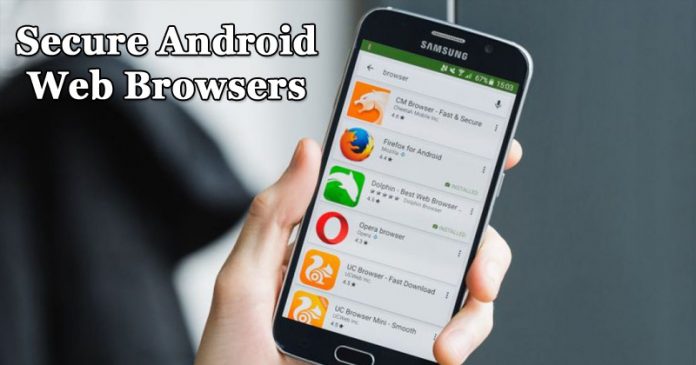 Mostly user thinks that they very safe over the internet for browsing lots of sites on their device. But that's a misunderstanding as today there are lots of spy agencies that keep track of users, so it is necessary to ensure your privacy by securely browsing the web. Time to browse securely over the internet in your Android as you may not know people can be spying on you through your browser
In this cyber world, security is always the priority in any region. Similarly, secure browsing is a way to browse safely or say anonymously over the internet. Mostly user thinks that they very safe over the web for browsing lots of sites on their device.
But that's a misunderstanding as today there are lots of spy agencies that keep track of users, so it is necessary to ensure your privacy by securely browsing the web. And in this article, I am going to discuss the same for Android users as in my previous I had stated the method to browse on PC securely. So have a look at the complete guide explained below to proceed.
30 Best Secure Android Browsers To Browse Web Securely
Here I am going to tell some of the best secure browsers for Android that are always in incognito mode and always keep your data clear whenever you close it. And these will provide you a safe browsing experience on your Android. So have a look on these browsers.
1. Ghostery Browser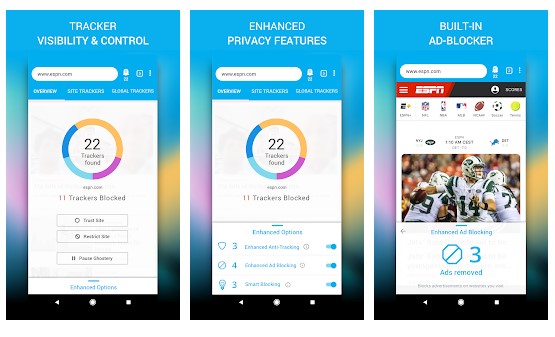 This is one the best browser that every security alert user knows. This popular browser provides you the private browsing by default. The major part is that when you close it, the app erases all data, such as browsing history, downloaded files, forms, cookies, and entered passwords. Also, this app provides you the fast page access from the websites.
2. Dolphin Zero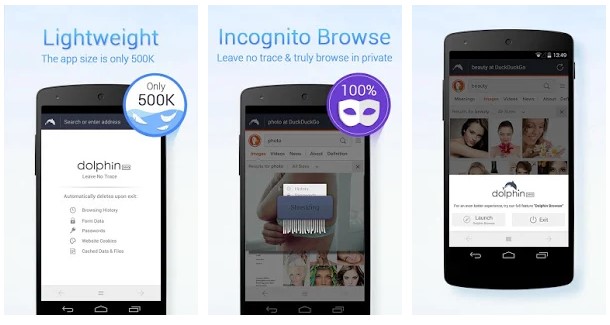 Many of you must be familiar with this cool Android browser as this browser provides you the high privacy while browsing the web. Similarly like the above browser, this browser also clears all the data like cookies, form data, passwords, and all other cache files. So we must give a try to this cool browser.
3. Krypton Web Browser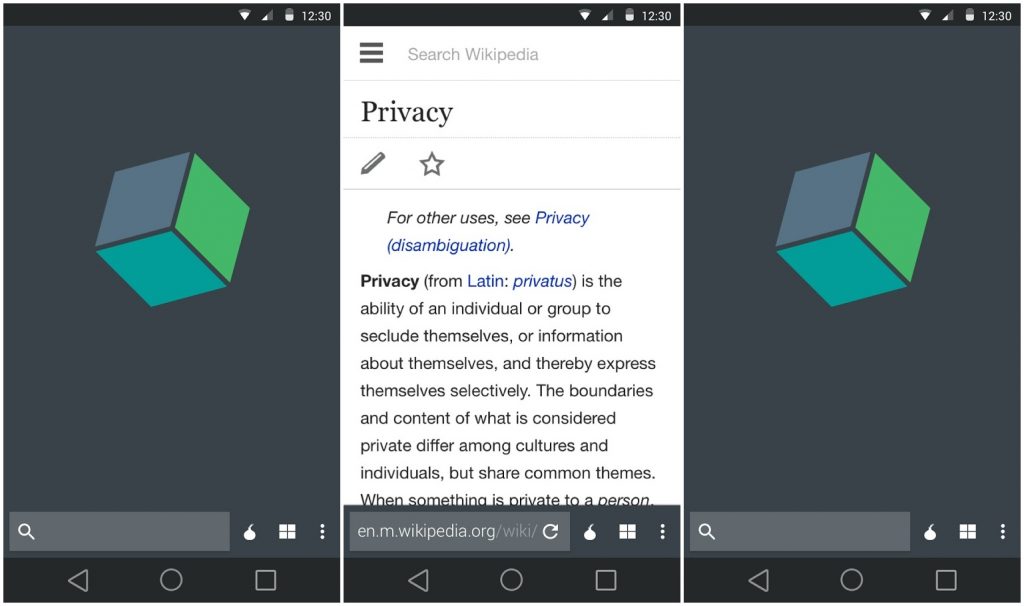 One of the best and my favorite browser as this browser works on HTTPS everywhere policy, and that provides high security while browsing, and also its tabs are isolated from each other from one data to another that stops data trapping from other sites. Must use this browser at least once.
4. Firefox – Private and Safe Web Browser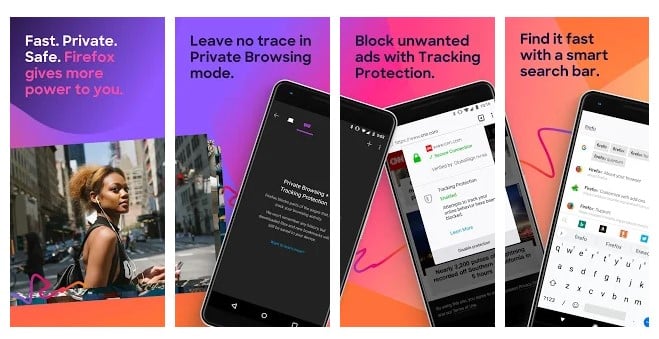 Well, Firefox – Private and Safe Web Browser is not as good as Google Chrome for Android, but it's definitely one of the most secure Android browsers to have. The best thing about Firefox – Private and Safe Web Browser is that it offers users lots of security features like adblocker, password manager, tracker blocker, etc. So, Firefox – Private and Safe Web Browser is definitely the best secure browser to have.
5. Ecosia Browser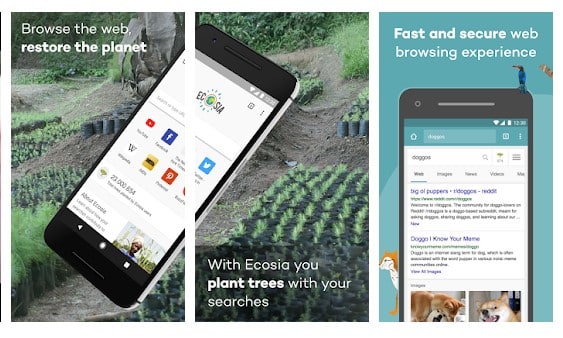 Well, Ecosia Browser is one of the unique web browsers that you can use on your Android smartphone. Although Ecosia is not considered as a secure browser, it does have some security features like private browsing and ad-blocking. Not just that, but Ecosia Browser also eliminates web trackers as well.
6. Yo Browser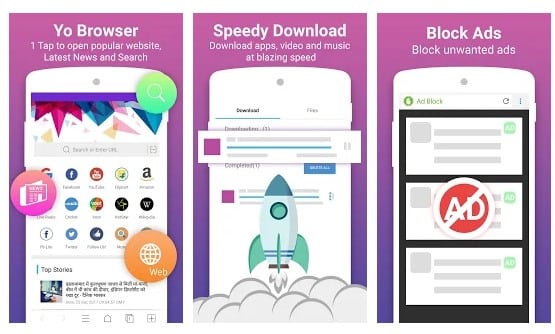 This one is not as popular as Google Chrome or Firefox, but it's a worthy competitor. Yo Browser is one of the best and lightweight web browser available on the Google Play Store. The best thing about Yo Browser is that it's very lightweight and has almost everything that needed to be the best web browser. The web browser blocks web trackers and ads which makes it secure as well.
7. Javelin Incognito Browser
Well, if you are searching for a secure Android web browser that is built solely for private browsing, then Javelin Incognito Browser might be the best pick for you. Guess what? Javelin Incognito Browser has an ad blocker, incognito mode, and VPN proxy servers. All these things can help you browse the web securely.
8. Mint Browser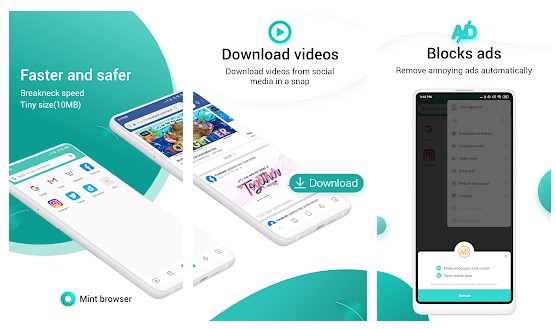 Well, Mint Browser from Xiaomi is one of the best web browsers for Android phones available on the Google Play Store. For security, the web browser has an ad-blocker, tracker blocker, and incognito mode. The incognito mode of Mint Browser allows you to browse the web safely and privately without leaving any search or browsing history.
9. Chrome Browser – Google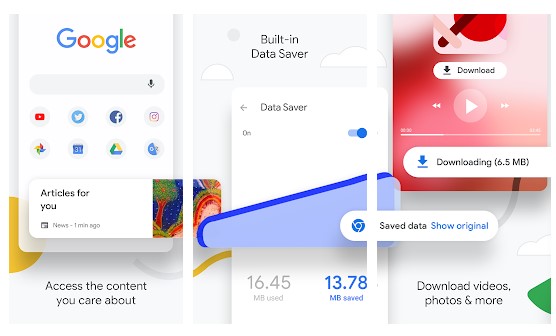 Browse fast on your Android phone and tablet with the Google Chrome browser you love on desktop. Pick up where you left off on your other devices with tab sync, search by voice, and save up to 50% of data usage while browsing. You can use its incognito mode to browse safely.
10. InBrowser – Incognito Browsing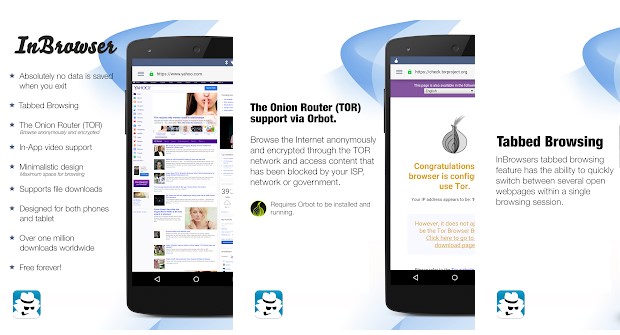 Well, InBrowser is an incognito/private browser for Android with TOR and video support. Each time you exit InBrowser, everything you've done in the app will be erased, including history, cookies, and sessions. InBrowser is a feature-rich browser, and it's in permanent private mode.
11. Asus Browser- Secure Web Surf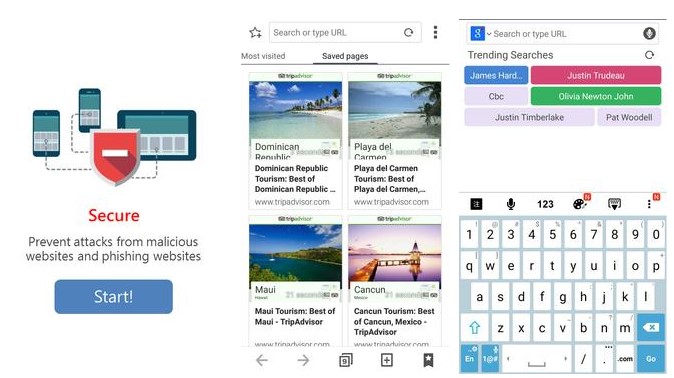 It is a fast and secure web browser. It provides an amazing web browsing experience by emphasizing speed, security, and being user-friendly. Its design allows you to browse and search the Internet at the fastest speeds while providing many exclusive features.
12. Orbot: Proxy with Tor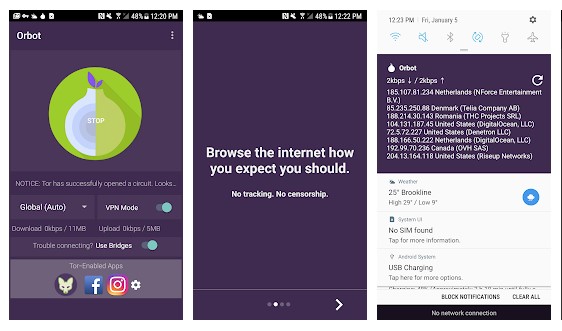 It is a free proxy app that empowers other apps to use the internet more securely. Orbot uses Tor to encrypt your Internet traffic and then hides it by bouncing through a series of computers around the world.
13. Orfox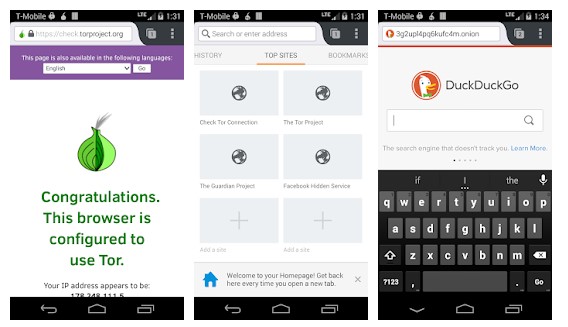 This Android browser is built from the same source code as Tor Browser (which is built upon Firefox), but with a few minor modifications to the privacy-enhancing features to make them compatible with Firefox for Android and the Android operating system
14. Maxthon Browser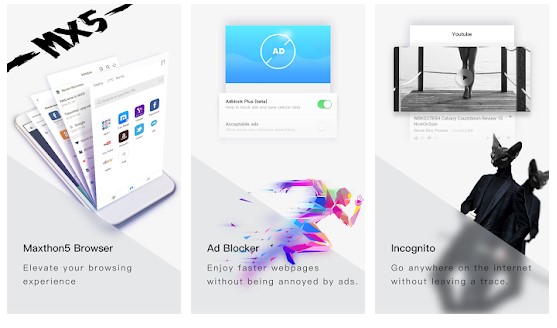 Well, Maxthon Browser is one of the highest-rated browsers for Android today. It's fast, secure, smart, easy to use. It brings you an amazing Premium web experience. Maxthon Browser is a secure browser that offers maximum privacy and security. Browse web pages without leaving any traces, enhancing your privacy & information security.
15. Armorfly Browser Downloader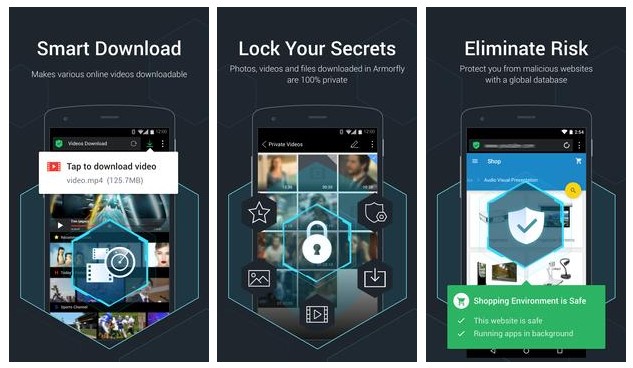 It is a secure browser that offers maximum privacy and security. You can lock your secrets away and enjoy a comfortable browsing experience with all-around protection. With the help of its video detection function, Armorfly browser makes various online videos downloadable.
16. Puffin Web Browser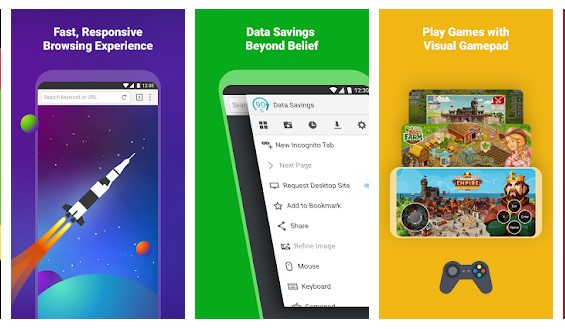 The web browser lacks security features, but it's one of the fastest web browsers that one can use on Android. The web browser greatly speeds up mobile browsing by shifting the workload from the resource-limited devices to the cloud servers. Another best thing is that all traffic from Puffin web browser to the Puffin servers were encrypted.
17. Webroot SecureWeb Browser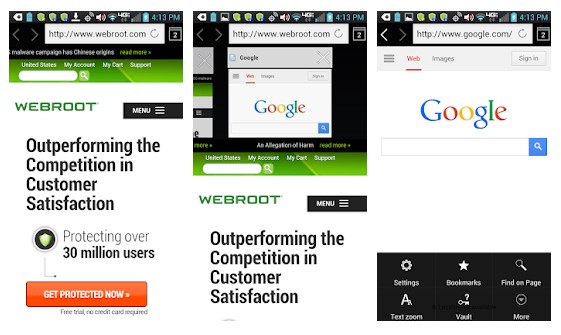 Well, Webroot secure web browser is one of the feature-rich browsers which you can have on your Android. It provides real-time protection and alerts of viruses and potentially malicious websites from Webroot's advanced URL reputation database.
18. Dolphin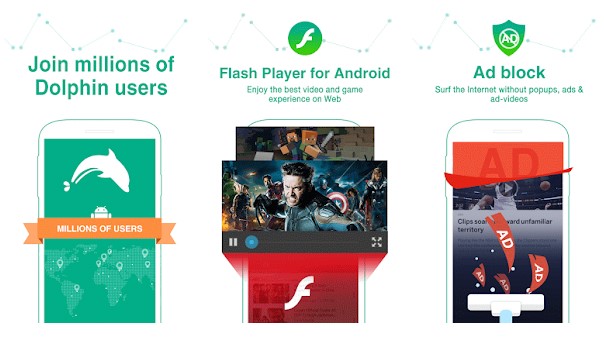 If you are searching for a fast, private and secure web browser for your Android smartphone, then you need to give Dolphin Browser a try. The web browser offers a wide range of features like Flash player, pop-up blocker, personalized search, download manager, private browsing mode, etc. For security, it only offers a private browsing mode that doesn't save your browsing activity and cookies.
19. Brave Browser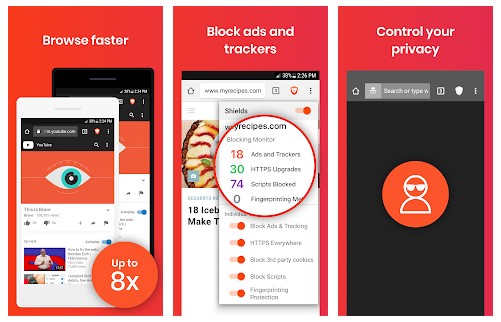 It's one of the fastest and secure web browser app available for Android phones. This a privacy browser that provides the most secure, lighting fast web browsing experience on Android. It automatically blocks popups, ads, malware, and other malicious scripts from the internet. Apart from that, it also has a private browsing mode that automatically deletes your browsing history upon exit.
20. Firefox Focus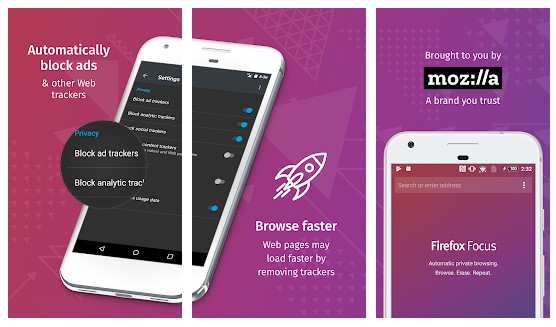 The new Firefox Focus automatically blocks a wide range of online trackers — from the moment you launch it to the second you leave it. Easily erase your history, passwords, and cookies, so you won't get followed by things like unwanted ads.
21. AZ Browser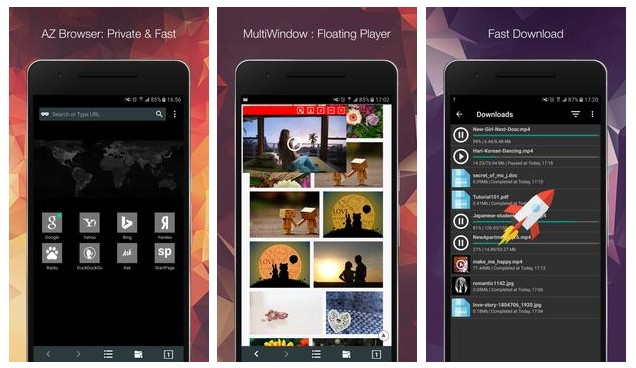 Well, AZ Browser is another unique browser on the list which brings in lots of interesting features. This is one of the best private browsers which you can use on your Android devices. The great thing about AZ Browser is that it brings a floating video player which allows users to watch videos while doing other stuff over the internet.
22. Frost Incognito Browser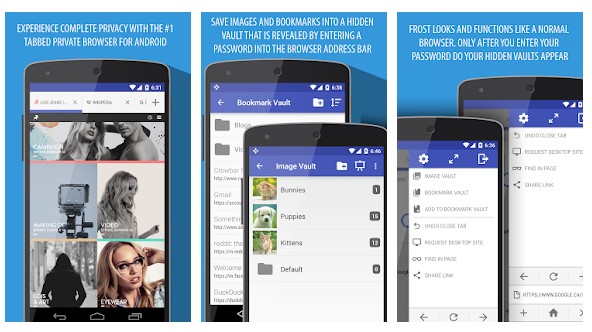 It is another best private browsing app that you can have on your Android. The great thing about Frost Incognito Browser is that it comes with a hidden, password-protected image and bookmark vault which you can use to store sensitive details. Apart from these, the browser also brings several other privacy features.
23. Omigo Browser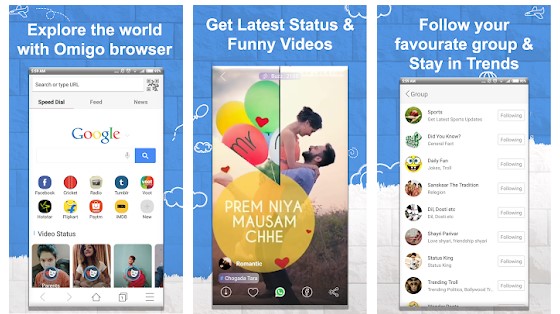 Well, Omigo is another best Android browser that comes with a private browsing feature. Not only these, but Omigo browser also comes with a built-in Adblocker and it comes with lots of other advanced feature which could enhance your browsing experience. The app comes with tabbed bar, incognito browsing, news, and flash player features.
24. Epic Browser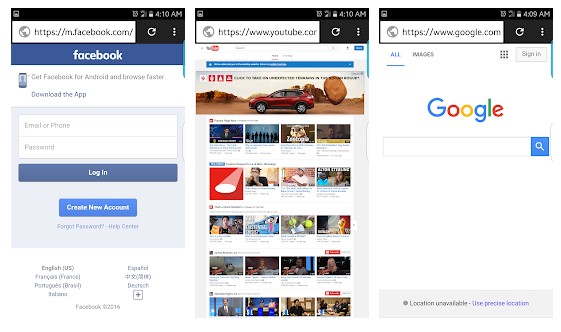 If you are looking for an Android web browser that offers lots of powerful web security tools, then Epic Browser might be the best pick for you. Security and privacy tools include private browsing mode, Web tracker blocker, ad blocker, etc. Not just that, but Epic Browser for Android also offers users with Encrypted Proxy servers.
25. Firefox Lite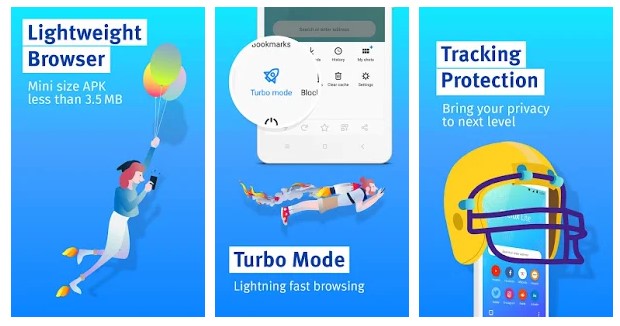 Well, Firefox Lite is another best secure web browser that you can use on your Android smartphone. The great thing about Firefox Lite is that it brings lots of privacy and security features like an ad blocker, web tracker blockers, private browsing mode, etc. Not just that, but with Firefox Lite, you can also enjoy Parallel downloads, Multiple tab browsing, etc.
26. Phoenix Browser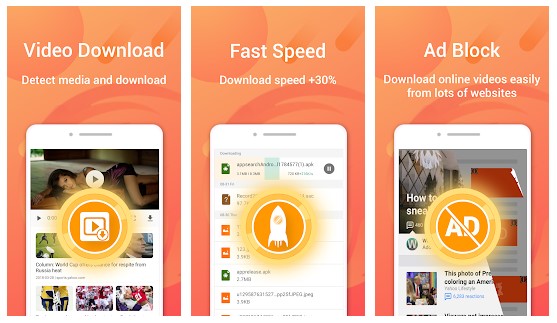 The great thing about Phoenix Browser is its downloading features. The web browser got the ability to detect and download videos from various portals. Not just that, but the web browser also offers an Ad Blocker and incognito mode to protect your privacy.
27. Nox Browser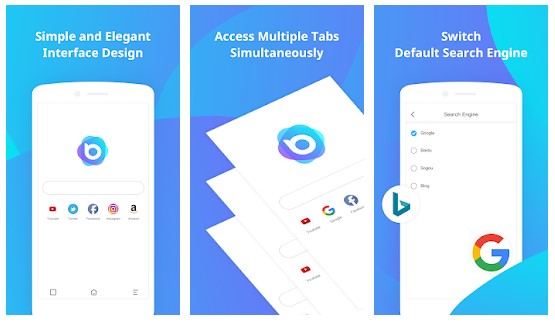 Compared to every other web browser, Nox Browser offers users more features. It has some useful features like multiple tabs, offline browsing, incognito mode, etc. Nox Browser is known for its high-level data protection features which can protect you from web trackers and ads.
28. DuckDuckGo Privacy Browser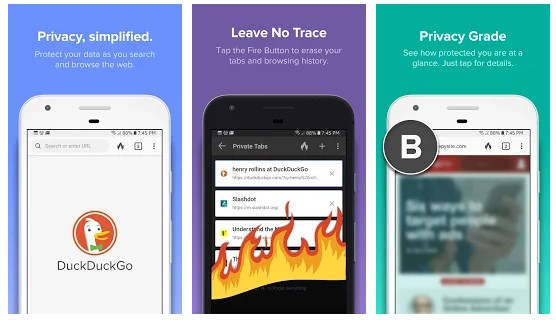 It is one of the best secure web browsers for Android available on the Google Play Store. The great thing about DuckDuckGo Privacy Browser is that it offers everything that you need to protect your privacy. The DuckDuckGo Privacy Browser web browser for Android can block ads and web trackers and it forces web pages to use an encrypted connection. Apart from that, DuckDuckGo Privacy Browser allows users to search privately.
29. Yo Browser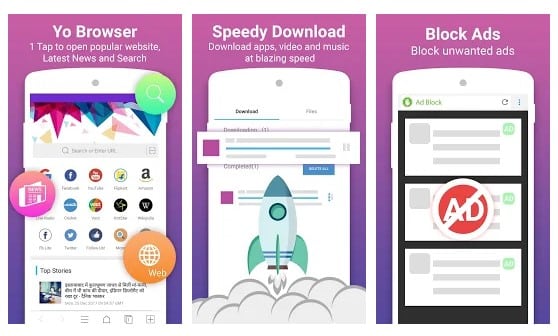 It is a relatively new web browser available on the Google Play Store. Although the web browser is not heavily popular, it packs lots of useful features. It's a free and secure web browser that doesn't store your browsing activity. What's more interesting is that it provides users a night mode which turns down the harmful lights emitting from the phone's screen. So, Yo Browser is another best web browser that you can use right now.
30. Firefox Preview
Well, Firefox Preview is another web browser from Mozilla which had been launched a few days ago. Guess what? Firefox Preview is the first step from Mozilla in building a better mobile browser. The web browser is built on Mozilla's Gecko browser engine and it claims to be 2x faster than the previous versions. Mozilla has also introduced lots of unique privacy features with Firefox Preview as well.
Apart from a browser, you can use some Best VPN For Android that gives you a secure private network to browse anonymously over the internet.
So above is all about How To Browse Securely On Android. I hope this article helped you! Share it with your friends also.