Great BitTorrent Alternatives For 2021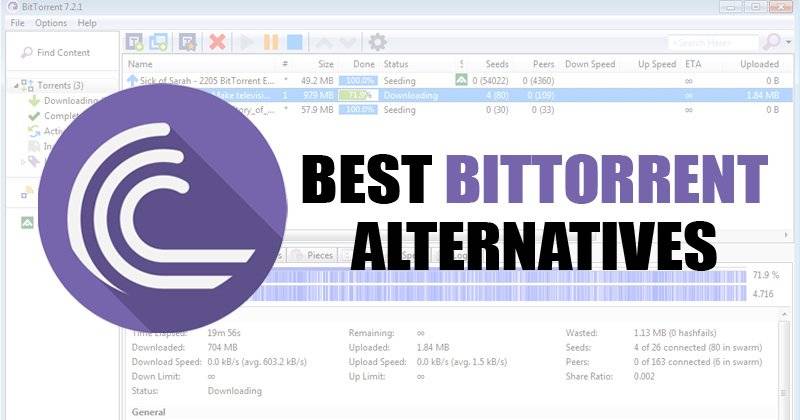 A peer-to-peer application developed by Bram Cohen and BitTorrent, Inc., BitTorrent is characterized as a 'peer-to-peer tool used for uploading and downloading data through the BitTorrent protocol.' BitTorrent was the first client created for the protocol, and it is a well-known program in the File Sharing category because it was the first client written for it. There are more than 50 BitTorrent equivalents available for a number of platforms, including Windows, Linux, Mac, Android, and BSD, as well as other operating systems. It is recommended that you use qBittorrent instead, which is both free and Open Source. Transmission (free, open-source), uTorrent (freemium), Deluge (free, open-source), and Free Download Manager are some of the other excellent alternatives to BitTorrent (Free).
BitTorrent Alternatives
Here in this article, we will share a list of the best BitTorrent Alternatives for Windows. It's worth noting that tons of BitTorrent Alternatives are available on the internet, but we have listed only the best ones.
1: qBittorrent
If you dislike the ad-filled interface of BitTorrent, you will almost certainly enjoy qBittorrent's UI. It's a lightweight torrent client that's available for free on this list. In addition, there are no advertisements on the torrent client. Despite the fact that it is lightweight, qBittorrent does not sacrifice any critical features. Magnet link support, an integrated torrent search engine, and other essential features of qBittorrent are just a few of the software's highlights.
Read More: TorrentProject Alternatives
2: BitComet
When compared to BitTorrent, BitComet features a far superior user experience as well as a more intuitive user interface. The most important thing to note is that it provides practically every function you could possibly require to manage your torrent downloads and uploads. Furthermore, as compared to BitTorrent clients, BitComet provides significantly faster download rates than the latter.
3:Tribler
The Tribler torrent client for Windows may be the best option for you if you are looking for an excellent torrent client that comes with a rich set of features and a simple-to-navigate interface. 
What's more, guess what? 
Tribler is designed to provide you with the fastest download speed possible while you are downloading. 
You should consider the Tribler if you are looking for a perfect BitTorrent alternative that is both fast and reliable.
4: Vuze
Windows, and Mac OS X. It is also available for other operating systems. 
It is considered to be one of the most feature-rich torrent clients available today, and it is well-known for its attractive user-interface design. 
Vuze offers a greater number of features when compared to BitTorrent. 
RSS updates, an HD video player, HTTP seeding, and other features are some of the most important aspects of Vuze. 
Vuze, on the other hand, makes an attempt to install additional software during the installation process.
Read More: Best Free Similar Sites Like Isohunt 
5: Tixati
This is the only torrent client on the list that is different from the others. Tixati allows users to connect with one another and have a real-time conversation with one another. 
There are no advertisements in the app, and it is completely free to use. The download speed when downloading torrent files is also acceptable, aside from that point of contention.
6: FrostWire
If you are looking for a torrent client for Windows that is fast, clean, and free of advertisements, FrostWire might be the best option for you. 
FrostWire does not display advertisements, and it offers faster download speeds when compared to the other programs listed in this article. 
Yes, FrostWire allows users to prioritize torrent downloads, which is a useful feature.
Read More: Legal KickAss Alternatives
Which Is The Best BitTorrent Alternative For Mac?
The list provided above has been compiled specifically for Windows users. If you have a MAC computer, you can download files using Deluge, BitTorrent, and Vuze.
Key Details 0f BitTorrent
1 Search for torrent files on the Internet, and then download and upload files on a peer-to-peer network to share files.
2 The most recent update was made on 04/10/20.
3 Within the last 6 months, there have been no updates to this page.
4 Additionally, Android and Mac versions are available.
Protocol
When it comes to filing sharing, BitTorrent is a peer-to-peer communication protocol that allows users to distribute data and electronic files over the Internet in a decentralized manner.
Transmission
Transmission, on the other hand, was originally intended to run only on the Linux operating system. The app, on the other hand, has now been ported to run on Windows by the developers. Transmission is not the best BitTorrent alternative, but it is still effective and does its job flawlessly, despite its limitations. BitTorrent, on the other hand, has more features and is easier to use in terms of functionality.