How To Fix Comcast Email Not Working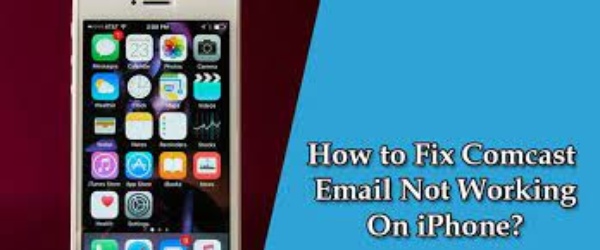 One thing you always get for free when you join up for Comcast (Xfinity) services is an email address.
I use my Comcast account as my personal email address, which I only share with my pals. My internet provider, on the other hand, occasionally gives me a hard time. It occasionally stops getting emails, and I'm not sure if it's because no one cares about me or because of a software issue.
In case you need it, I've listed the key issues I've had with my Xfinity email on iPhone and how to troubleshoot them below.
Because of the wrong Mail app settings, Comcast email does not work on iPhones in general. For inbound mail, use the imap.comcast.net host and port 993, and for outgoing mail, use the smtp.comcast.net host and port 587. Also, make sure the Xfinity portal's Third-Party Access Security option is turned on.
Why Isn't Comcast Email Working On My iPhone?
The Comcast Server Is Currently Unavailable.
Even huge firms like Comcast, believe it or not, can have outages from time to time. Users reported that Comcast email was not working on iPhones and other devices in a thread on their site.
Xfinity customer service confirmed that the service was not available in the end.
Read More: How Abcglobal.net Email Login
How Can I Tell If A Server Is Down?
Big organizations' services are frequently spread, which means that if one service goes down, it may not affect the remainder of the bundle. So, even if the Mail server is down, your TV, internet, and phone may still function normally.
Using the Web app to sign in is the quickest way to see if the Mail server is unavailable.
Go to Xfinity.com to learn more.

Please log in.

Select the Mail icon.
The server is up and running if you can access your emails through the browser app. The server is down if you see a 500 error on the screen.
There is nothing you can do in this situation except phone Comcast and report the problem. However, it's likely that they're already aware of the issue and that their engineers are working on it.
All you can do now is keep checking to see if the mail server is up and running. This could take hours, if not days.
The iPhone Has A Problem With Connectivity.
Have you ever noticed that you don't get emails during the day, but as you go home, everything begins working again? It's possible you didn't allow the Mail app (or the Xfinity Connect app) to connect to the cellular network.
To check the configuration, open the iPhone's Settings app, tap Cellular, scroll down to Mail, and see if it's enabled (the slider is green).
If it isn't, you will only be able to receive and send emails while the phone is connected to the internet. Which could be just what you're looking for. There is, however, a problem in the opposite direction. You may lose internet access at times, but the Wifi router will continue to function.
In this instance, the iPhone will connect to the Wifi router but will not be able to access the internet or send or receive emails.
If there is no internet available, the device should use cellular connectivity, however, Apple Macs do not do so.
Read More: Can You See Who Views Your Facebook 2021
How Do You Tell If You're In This Predicament?
Start Safari on your iPhone and navigate to any website, such as Google.com. If the browser is unable to access any websites, briefly disable Wifi on the phone and utilize a cellular connection. Also, don't forget to reconnect to the internet by turning on the Wifi. My acquaintance was forced to pay for an unlimited internet account with this mobile service provider, and I recall his story.
Every month, his family used 20-30GB of internet on their phones. When I told him that this wasn't usual, he looked into it and discovered that he was only using about 1GB of data, with the rest going to his wife. His wife reportedly disabled Wifi on her iPhone and relied on cellular access even at home. My friend's usage went below 5GB once she connected her phone to the home Wifi router, and he was finally able to cancel a costly plan.
On The iPhone, The Mail App's Settings Are Incorrect.
The most prevalent problem is wrong settings in the iPhone's Mail app. Check the Mail settings if you get an error message like "imap.comcast.net does not allow password authentication."
To check the configuration, open the iPhone Settings app and go to Passwords & Accounts, then search for and tap on the Comcast account (it may have a different name on your iPhone).
The settings for receiving emails can be found under Incoming Mail Server. If you're having difficulties getting emails, this is the place to look.
Incoming Mail Server Settings can also be found under the Advanced tab. The following should be included:
imap.comcast.net is the name of the incoming server.

Username: Ensure that the username is a valid Comcast email address.

Password: Here's where you'll need to re-enter your email password.

993 is the incoming mail server port.

ON IMAP Path Prefix: empty, use SSL

Authentication: Password
Check the Outgoing Mail Server settings if you're having trouble sending emails from your Comcast account. The following should be included:
smtp.comcast.net is the hostname of the outgoing mail server.
Username: Ensure that the username is a valid Comcast email address.
Password: Here's where you'll need to re-enter your email password.
587 is the port number for the outgoing mail server.
Authentication: Password
Yes, SSL is used.
Read More: Best Alternative Sites For Textsheets In 2021
Fetch Settings On iPhone Are Incorrect
If your settings are accurate but you're still having problems receiving or sending emails, it's possible that the problem is due to the wrong Fetch settings.
To fetch new data, open the Settings app, go to Passwords & Accounts, and then to Fetch New Data.
Check the settings on your Comcast account. The user can choose how often the device checks for new emails using the Fetch New Data feature. There are three possible values: Push, Fetch, or Manual. The mail server will send new emails directly to your phone if the setting is set to Push. If it's set to Fetch, your iPhone will check the server for fresh emails on a regular basis. The frequency of periodic checks is determined by your preferences. If it is set to 30 minutes, you may receive your emails after 30 minutes have passed since they were sent.
Finally, there is a setting for Manual. If Fetch New Data is set to Manual, you will not receive any emails until you open and refresh the Mail app.
Why are there three options, and why isn't it always set to Push? Push consumes more battery and has a significant impact on battery life.
On my iPhone, I have many Mail apps, and I only use Push for those that require immediate notifications, such as work.
Using An Outdated Mail App
Having the most recent iPhone updates is usually a good idea.
Check to see if Apple has issued an upgraded version of the Mail app on a regular basis. If this is the case, updating the app is a smart idea. Bugs are frequently fixed by them (and unfortunately, sometimes introduce new ones).
I don't usually update an app if it's working, but if it's broken, this is something I always do immediately.
Follow techr.org for the Latest Technology Update and news.