Who is Molly Hurwitz Things You Didn't Know About Molly Hurwitz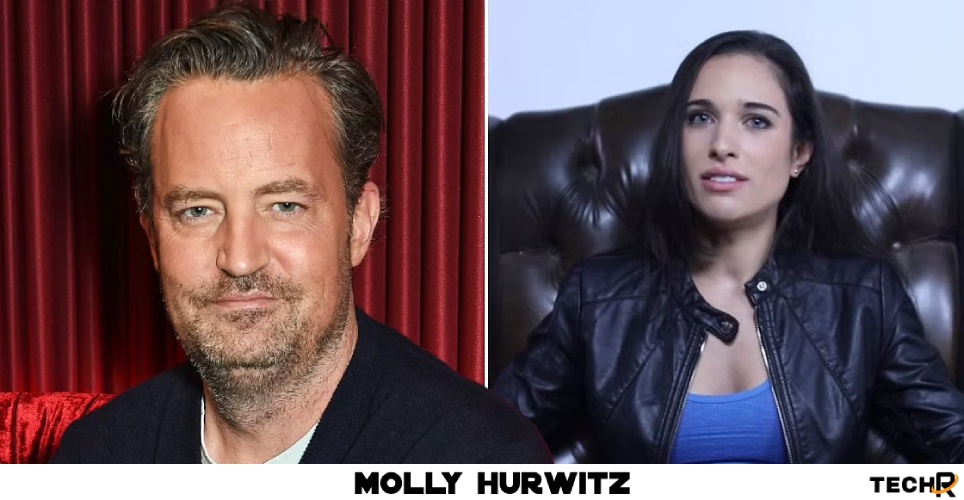 Matthew Perry is one of the most popular actors in pop culture. He has become a big celebrity all over the world since landing the role of Chandler Bing in Friends. Despite various acting appearances in Hollywood films, Perry's career-changing opportunity came with Friends. The 51-year-old actor has kept his personal life a closely guarded secret. However, the actor and his long-time girlfriend Molly Hurwitz recently got engaged. "Who is Molly Hurwitz?" you might wonder.
Who is Molly Hurwitz?
Molly appeared in a YouTube series called Girl Stories, in which she played Abbi, a young girl in a four-minute comedic clip.
The video, titled "Abbi's repurposing of her Judaism goes badly," was released in 2017 and features her talking about being Jewish in New York and beyond.
Here's the link to the video:
On Thanksgiving Day, Matthew, the star of 'Friends,' announced his engagement to Molly in 2020. He was ecstatic at the time of the announcement because he had been dating his girlfriend for around two years.
"I decided to get engaged," the 52-year-old actor said. Fortunately, I was dating the most beautiful woman on the face of the planet at the time."
Molly joined the Instagram social media platform in February of 2020, but she is not very active on it. She confirmed her relationship over the holidays by posting a photo of a Christmas tree-themed photo taken inside Matthew's $33 million penthouses in Century City, California.
"According to my parents' custody agreement, my mother was not allowed to have a Christmas tree," she captioned the photo. Fortunately, there is no such agreement for a daughter's boyfriend, so Hurwitz gets a treeeeeeeeeeeeeeeeeeeeeeeeeeeeeeeeeeeeeeeeeeeeeeeeee
Molly and Matthew were last seen in public in 2019 when they dined at Dan Tana's Italian restaurant in West Hollywood, California. They have been rumored to be dating since 2018. When she first started dating, she had a private Instagram account, which she later deleted after deciding to stay away from social media.
"The guys she's dated in the past have all been in the entertainment industry," sources say. Hurwitz claims she's not in it for the fame, but she secretly enjoys the attention she's received as a result of their connection."
According to reports, the recently engaged couple planned to relocate to Matthew's new luxurious property in Los Angeles, which is valued at $6 million. A comprehensive vegetable garden, training pool, and hot tub are all included in the estate.
Their relationship lasted only six months. Matthew Perry has announced that he and Molly Hurwitz have called off their engagement. "Sometimes things just don't work out, and this is one of them," he said, confirming the end of his relationship with the 29-year-old talent manager. "All the best to Molly," I say.
The sad news of their breakup arrived shortly after the Friends reunion. Jennifer Aniston, David Schwimmer, Courtney Cox, Lisa Kudrow, and Matt Le Blanc were among those that reconnected with Perry. Perry stated that he doesn't feel like time has passed because the chemistry between all of the co-stars is still strong. From 1994 through 2004, the popular show aired for more than a decade.
Read More: How Much Pete Davidson Net Worth
Things You Didn't Know About Molly Hurwitz
"Friends" has always been a hit with everyone, and it has been since the beginning. It never gets old, from Jennifer Aniston's "The Rachel" hair in the 1990s to Matthew Perry's one-liners about Chandler's mysterious job that no one knew about despite their relationship. The cast, on the other hand, is becoming older. Some have married, divorced, had children, and not had children, while others have been engaged and broken up. Fans want to know more about the lady who almost married Matthew Perry, who just called off his own engagement to Molly Hurwitz.
1. Her Social Handles are Private
She was engaged to one of America's top stars, but she was not as well-known as he was. Her Instagram account was not made public. We understand why she decided to keep it hidden. She has little desire to disclose details of her life to strangers.
Read More: When is The God of War Ragnarok Release Date
2. She's in the Entertainment Industry
If you're looking for someone who works in the entertainment business, look no further. Regardless of what she accomplishes in the entertainment sector, she is in a new environment. However, we do know that she is employed with Zero Gravity Management.
3. She is Young
In the wake of Perry's 2020 engagement announcement, the first thing that fans wanted to know was how much younger his now-ex-fiancee was than he was. In 1991, she was born on the 13th of July. Even though she would turn 30 in 2021, he proposed to her while she was only a few months into her 29th year.
Read More: Who Is Maria Victoria Henao Everything Which You Need
4. She Likes Famous Men
When she first started dating Matthew Perry, she had a relationship with a co-worker from "The Office." She may have met B.J. Novak since she works in a high-profile workplace with some big-name celebs.
5. She Likes Her Privacy
Her preference for secrecy reveals this. When she first started dating Perry, they were never shown together in public for about a year. He and she made the decision to keep things private for a long time, and she has been quite explicit about her need for privacy. They didn't reveal anything for nearly a year, and the first time she did was when the pair got engaged around Thanksgiving in 2020 when she first made things public.
Follow TechR for more informative articles.