Top 8 Best Photoshop Alternatives in 2020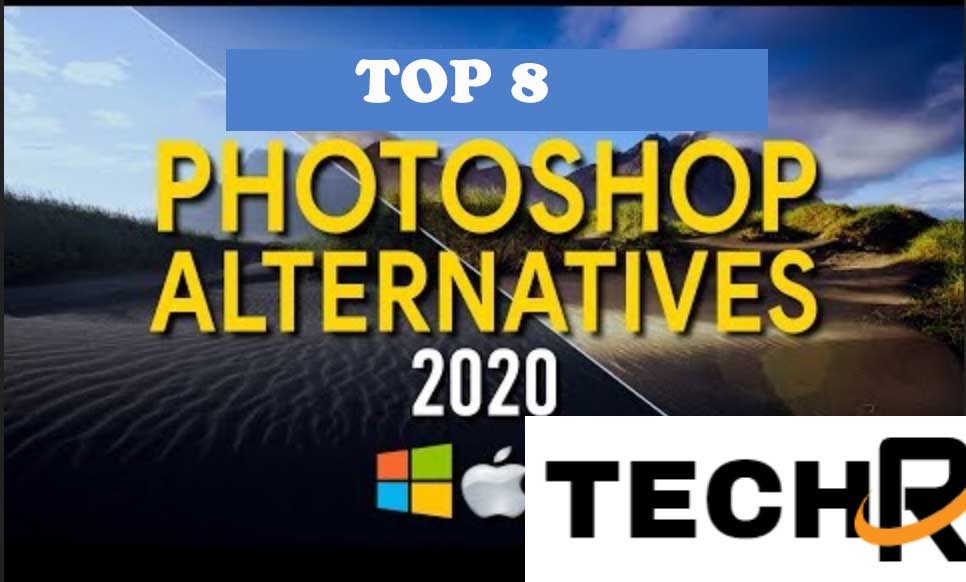 Best photoshop alternatives in 2020 are needed by those who use Photoshop as a graphics editing tool which is developed by Adobe. It contains many versatile features for pixel-based images as well as graphics. However, there are some limitations to it as well which provides hindrance in the work. For example, it does not show progress bars; it lacks providing input by using touch or stylus pen. Apart from that, this tool is quite difficult and is hard for some users to learn.
 The Best Alternatives of Photoshop
There is other such software which provides better alternatives to Photoshop. The list of some of the software, both free and paid, are given below.
 1. Luminar
Luminar is a photo editing software. It contains tools which create a unique and captivating image in the landscape, travel, portrait mode as well as other genres of photography. One of the positive points of this software is that it can be used easily without needing a professional's help.
            Features
        On a portrait, this tool renders a realistic result.
        New objects in the pictures can easily be inserted
        Source of sunlight can also be enabled by using sun rays tool
        This tool can also be used to add smart contract in order to make image texture more realistic.
        Unwanted objects can easily be erased with just one click.
2. Canva
Another Photoshop tool is Canva. This tool is an image editing software and lets one create a design with teams. Canva contains an enormous number of photos, illustrations, and icons. It can also be used to add stickers to the pictures.
Features
        Cropping pictures with it is easier
        Adding text with images is also possible
        It also helps add transparency to photos.
        There is also a photo enhancer which helps one increase the brightness.
        Images can also be blurred with it
        It also contains a tool in order to give a vintage-looking effect
        This Photoshop tool also contains various free icons
        It also helps users build a better and convenient bridge.
3. Photopea
Photopea is one of the online photo editors which support different file formats, like PSD, CXF, CDR, etc. This tool works for both vectors and raster graphics. It can also be used to adjust the size of the images, to create an illustration, to process photographs, and also to design a webpage.
Features
        Photopea provides brushed in two shapes: circular and pattern
        There are numerous ways present in this tool to manipulate layers
        It is also possible to write text on curve shape
        Photopea enables the users to fill a shape with specific strokes with thick lines or colour.
        Photopea also contains a grid to help users align  image elements
        It is also possible to create animated Gif images with the help of different layers of the documents
4. Pixlr
Pixlr is also an online photo editor containing a wide range of easy to navigate photo editing tools. It also helps one to resize, crop, and remove background from images
Features
        With Pixlr, it is possible to draw anything on the picture
        Blemishes, duplicate parts of a photo, spots can be fixed and removed with the help of this tool
        Adding effects like clarity, glamour, boom, and mosaic is also possible
        Borders, overlays, shapes, or icons for images can also be used.
        Pixlr also provides modes to lighten or darken the images
        Files and images can be accessed from Google And even Facebook
5. Corel Photo-Paint
Corel photo-paint is considered to be one of the strongest Photoshop editors. This tool is capable of supporting around 300 types of cameras. It also allows one to balance colour, adjust the temperature, saturation as well as a tint.Some of the features are as follows:
Features
        With the help of non-destructive layers, the complex composition can be created
        Special effects like bokeh and sepia colour tones can also be added to the pictures.
        This tool also assists in cropping, editing, straightening and stitching the images.
        Corel Photo-Paint can also be used to remove any unwanted area from the pictures.
6. Photolemur
Photolemur is one of the advanced Photo editing tools which works by automatically improving the photos pictures by using artificial intelligence. This tool is capable of improving more than one photo at once. This tool can be used to smoothen the skin, enhancing eyes, and also for removing imperfections.
Features
        It helps in enhancing pictures in just one click
        Its numerous styles enable one to personalize images with ease.
        It is also possible to enable dragging and dropping pictures to the working area
7. SUMO Paint
Sumo Paint is a simple online flash-based image editing software. It contains a number of tools which help in manipulating images faster. It contains more than 300 high-quality brushes.
Features
        Different shapes can be created with shape tools hassle-FREE
        It is also possible to work offline with this tool
        Realistic ink impressions can also be created.
        Updates can be checked and bugs can be fixed automatically.
        Bitmaps can be filled with the help of brush libraries
        This software also helps in creating waves with a 3D effect.
        Spiral gradient shapes can also be created with just a few mouse clicks
        This application also makes it possible to make a new wave effect in the image.
8. Affinity photo
Affinity Photo is a better Photoshop editor which was developed by Serif. It can be used for Windows, macOS, and iOS platforms. It also enables one to merge HDR photos.
Features
        It backs panorama, which is a wide-angle view of scene stitching
        It is possible to work with more than one image at one time
        360 Degree image editing is also possible
        Photos can be printed digitally.
        It has a wider range of tools like Dodge, clone, burn, and patch
        It is also possible to remove unwanted areas of the image.
        Users can adjust exposure, white balance, and black point.
Conclusion
These are the few options that you may like as the best photoshop alternatives in 2020. They can help you fix the photographs that you have clicked in an easy way.