How To Delete Kik Account Step By Step Guideline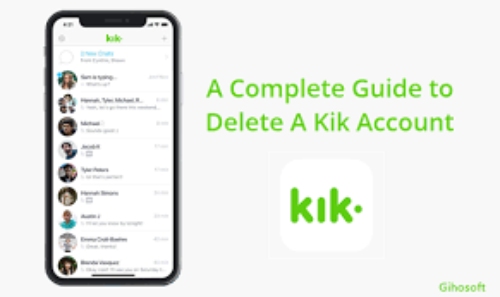 Children begin their digital lives at a young age, and protecting them from the hazards that lie online is getting increasingly challenging. Parents should be cautious when it comes to instant messaging, and Kik is one of the most popular messaging sites for teenagers. So, what exactly is Kik? What makes it a possible threat? And how do you get rid of your Kik account?
What Exactly Is Kik?
Kik Messenger, or just Kik, is a free mobile chat program available for iOS and Android devices. It allows you to send and receive private messages as well as share videos and photographs with other users. It has proven to be a huge hit with teenagers.
To use Kik, you only need an email address, a birthdate, and a username. This means that other users only see the most basic information about each other. After a certain amount of time, the software will also remove your messaging history. The program, however, has a number of privacy flaws, including IP logging and the lack of end-to-end encryption.
Read More: Zoom.com Login Step By Step Detail
Why Should You Get Rid Of Your Kik Account?
There are a variety of reasons to remove your Kik account, including:
Exploitation and cyber-threats are two issues that need to be addressed. On any tool that allows users to remain somewhat anonymous, child exploitation is an issue. Kik is no different. Researchers are also having trouble obtaining data from the corporation in order to study these occurrences. However, the corporation has taken more stringent measures to combat these dangers.
Parental control is lacking. Kik can be used by teenagers without the involvement of their parents. Minors should have their parent's consent before using the app, however, they can simply get around this by entering a bogus birthday.
Inadequate privacy. Because Kik doesn't have end-to-end encryption, the service providers can read all of your messages or give them to a third party if they choose to. The corporation can also view your IP address and determine where you are. Because there is no encryption, fraudsters can easily intercept users' messages.
Users are unable to authenticate their identities. It's difficult to verify someone's identity on Kik if they don't have a genuine email address or phone number. This leads to a lack of trust and accountability among users, which can lead to scams, exploitation, and cyberbullying.
Transparency is lacking. Kik's code isn't open for independent scrutiny, so it's not exactly transparent. Its design was also not properly documented, and independent audits were not performed.
There are a plethora of safer messaging apps available. Check out our list of secure texting applications for additional information.
Read More: How To Fix Comcast Email Not Working
How To Permanently Deactivate Your Kik Account
To completely remove a Kik account, follow these steps:
To begin, go to this page. Fill in your credentials and the reason for your departure, then check the box below.

Press the Go! button.

Kik will send you an email to confirm your account. It should be opened.

Select Permanently Deactivate and go to the next step.
Your account will be terminated permanently. Nobody will be able to see your login or profile in the app, and you will no longer receive alerts. You won't be able to reactivate your account, so you'll have to establish a new profile if you wish to use the app again.
What Is The Procedure For Deactivating A Kik Account?
Deactivating Kik is a rather simple process. Simply enter your email address and follow the on-screen instructions. You will no longer get any correspondence from the app, no one will be able to identify your username, and you will no longer appear in contact lists after this. If you sign in again, your Kik account will be reactivated.
How Can You Deactivate Or Erase Your Child's Kik Account?
You can request that your child's Kik account be deleted by contacting the business. You can also send an email to [email protected] to request deactivation.
You will, however, need to know the username and email address that the youngster used to create an account. Logging into their Kik account and clicking the gear button in the top-left corner will reveal this information.
Alternatives To Kik
Here are a few Kik alternatives to think about:
Kids' JusTalk
JusTalk Kid is a video calling and messaging software for children. Parents can manage their children's access by assigning them a password. Furthermore, strangers are not permitted to contact children through the app. At any time, parents can effortlessly erase certain contacts.
Messenger Of Fennec
Another alternative worth investigating is Fennec Messenger. It works in a similar way to JusTalk in that it prohibits strangers from approaching your child. It also includes an integrated phone finder to assist you in tracking a child's device in the event of an emergency. There's also a useful time limit function that limits the amount of time you can spend on the app.
Messenger Of The Stars
Stars Messenger is kid-friendly software with a lovely design. On this service, no strangers can connect to your child. You can also form private groups for your children to create a safer environment.
Read More: How Abcglobal.net Email Login
With A VPN, You Can Use Kik.
If you insist on using Kik, at the very least make yourself and your children safer. As previously said, Kik has a poor track record when it comes to privacy. Because it doesn't employ end-to-end encryption, service providers can monitor and thieves can intercept your communications. The company can see your IP address and geolocation.
As a result, a VPN is your best friend in this situation. No one will be able to intercept your traffic because it will be encrypted. Furthermore, it will mask your original IP address, ensuring that no one can see where you are.
Follow techr.org for the Latest Technology Update and news