Who is Kala Brown? Where is Kala Brown Now? And Every Thing About Her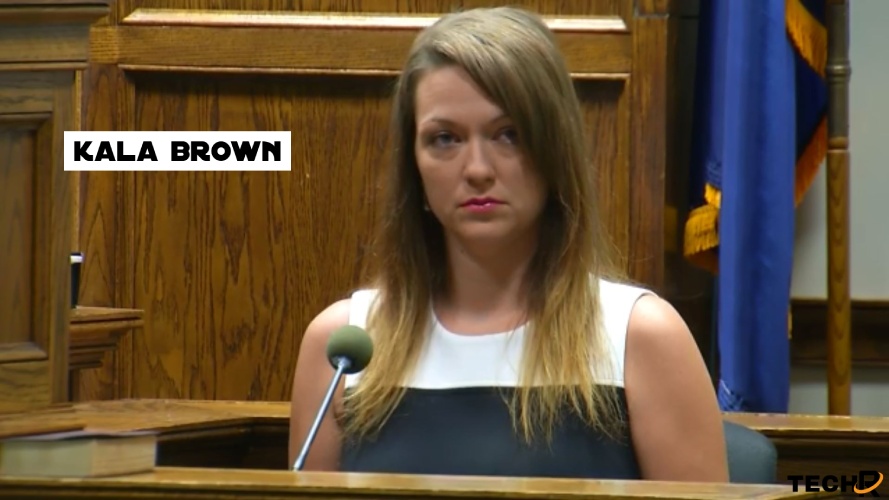 After barely a few months of dating, Kala Brown and Charles David Carver decided to live together. In spite of their optimism about their future together, they were facing financial difficulties.
A guy called Todd Kohlhepp had hired Kala to clean his properties as a side job. Five years before, Kala had been introduced to Todd, a wealthy real estate broker, by an ex-boyfriend.
Todd recruited Kala and Charles to work on his 95-acre farm in rural South Carolina in August of the same year. The young couple didn't realize that Todd was a monster ready to drag them into unfathomable horrors when they first met him and his wife.
How Did Todd Kohlhepp Nasty Plan Begin?
On August 31, 2016, Kala and Charles arrived at Todd's property to begin the renovations. Before entering his house, Todd instructed Kala and Charles to wait outside while he walked inside. Three rounds were fired right into Charles' chest as he returned with a pistol in his hand.
Afterward, Todd told his mother that Charles was murdered as a result of his "being rude and smart-mouthed." "He stated it was easier to control someone if you stole someone they loved," she revealed during an interview with Dr. Phil. However, according to Kala, Todd murdered Charles to ensure that he could torture and keep her hostage.
Todd then chained and threw Kala inside a metal shipping container after the shooting, where she was unable to speak due to her injuries. He said that the only other option was for her to die next to Charles and that she had no choice but to move in. Todd totally encased Kala in chains, from her neck to her toes.
It was then reported that Kala was chained up "like a dog" by those who rescued her. There would be no one to locate Charles, Todd warned Kala.
In the afternoons, between 1 and 3 p.m., Todd would free Kala from her handcuffs and remove the chains from around her neck and feet. A gun would be held to her head, and he would remind her that she was only alive to satisfy his sexual desires at all times.
After Kala had been fed and returned to the storage container, Todd would put her in. Every other day, Kala was given a pot of water to bathe in and allowed to use the bathroom once a day. Pitch black storage container contained only crime novels strewn by Todd for Kala to peruse.
Read More: Secrets of Sulphur Springs Season 2 Episode 3
How the Things Started Noticing?
On August 31, Charles' mother's final communication with her son was a text message. When she didn't hear from him the next day, she was anxious. Charles and his mother had an unbreakable bond, and not a day went by when they didn't talk. She went along with her instincts and filed a missing person's report for her kid.
Leah Miller, Kala's best friend, was doing her best to get in touch with her. She showed up at the house of the couple, left notes on Kala's car, and texted and called her nonstop.
According to Kala's mother, Bobbie Newsome, the dog that Kala and Charles share an apartment with was found starving and thirsty, and Kala would never abandon her dog on purpose. "I'd never do that," she insisted. On September 5, Kala was reported missing.
There was no stopping the strange Facebook messages a friend of Charles's received, in which he requested money to buy drugs from Charles's account. Because she had never met Charles before, the friend thought it was odd.
When Charles and Kala announced they were expecting, his Facebook page was constantly updated with "milestone" posts saying they had purchased a home together and even got married. After receiving a warrant for Charles' Facebook account on October 14, almost a month after he filed the paperwork to retain it, authorities became concerned that someone other than Charles had access to it and that the couple was in danger.
They discovered that Kala and Charles' Facebook accounts were flooded with messages about working on Todd's property the day after Charles' mother received the last text message from him.
According to their last known phone signals, neither Kala nor Charles left that area. Investigators arrived to Todd's farm on November 3 and were greeted with the most shocking surprise of their life.
A cargo container was making loud slamming sounds. Kala was tied up, unkempt, and terrified within the metal lock, which had been hacked off.
Kala Brown was finally freed after two months of being raped and abused many times a day. However, it was not all good news. After being questioned by the police, Kala revealed that Todd had murdered and buried Charles. The body of Charles' automobile was discovered tucked away in a grove of trees.
"Todd hoped" that Kala would develop Stockholm Syndrome and be "happy together" in an interview with Dr. Phil, according to Kala.
Abuse victims and hostages who form a close bond with their captors are at risk of developing Stockholm Syndrome.
Post-traumatic stress disorder, insomnia, and other mental health issues are common in those who have been kidnapped.
A soundproof room would be built for Kala, Todd's "good kitten," and she would live there indefinitely, according to Kala's account. After Kala's rescue, detectives discovered a pre-dug hole near the site of Charles's burial and concluded that Todd was only days away from killing the young woman he had saved.
Read More: Is Killing Stalking Anime Adaptation Going To Drop in 2022
What Went Down At The Court Trial
In the aftermath of her rescue, Kala opened up about the trauma she had endured. It was discovered that Todd was in fact her boss. As a house cleaner for properties he sold, she worked for him as a real estate agent's assistant. Todd kidnapped her and Charlie on August 31 while they were doing landscaping at his house. Kala was chained and locked in the trunk, and Charlie was shot dead by him. He also painted and destroyed their car in the woods to get rid of it.
As a result of her openness, she was able to heal. He only fed her once every day. While he had her in captivity, he had her abused daily. Todd's mother, on the other hand, denied that her son had abused her. The graves of those he had killed before were a further warning to her that he would kill her. In his trial, Todd admitted to killing seven people up to this point. Ten years earlier, he had also committed a quadruple homicide. For kidnapping and false imprisonment, assault and battery, intentional infliction of emotional distress, and negligence, Kala filed a lawsuit against Todd. The judge sentenced him to life in prison after he entered a guilty plea.
Read More:  Who Is Kevin Greene And the Cause of Him Death
Kala Brown's Net Worth
After taking into account the money she received from the case, Kala Brown's estimated net worth is between $5 million and $6 million. The judge gave orders to sell the estate and other resources of Todd Kohlhepp. The court ruled down the option of awarding her the prize money in two installments because of the harm she suffered. For the genuine harm she suffered, she was compensated with $1.5 million. Finally, $4.7 million in punitive damages were awarded. 6.3 million dollars was the total amount awarded.
Kala's first request was for $360 million. In order to compensate for medical bills, pain and suffering, mental agony, and the loss of pleasure in life, a large sum of money was required.
Follow TechR for more informative articles.