How To Fix Confirm Your Info On The App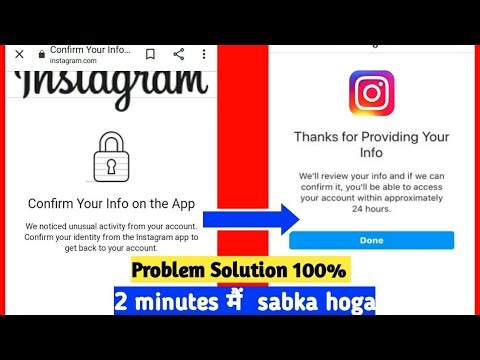 Have you received an error message similar to the one below? "We noticed an unusual activity from your account," says the error message. To return to your account, confirm your information in the Instagram app."
To resolve this issue, you must upload a selfie video to Instagram and confirm your identity. However, in a number of cases, users are unable to complete the video selfie.
This is due to another error that says "Oops, an error occurred," or the Instagram app occasionally stops working.
In this guide, we'll look at how to get past this and successfully confirm your information on the Instagram app.
Read More: What Is a Snapchat Handle
How To Fix The Error
You must complete a video selfie verification to confirm your information on Instagram. You may encounter additional errors while attempting to verify, such as the Instagram application stopping and closing down.
You will need to uninstall and reinstall the Instagram app to resolve these issues. However, avoid reinstalling right away.
Some users had to wait 24 hours for the problem to be resolved. Others had to wait three days before reinstalling. To be on the safe side, the recommended time is 24-48 hours.
After a long period of inactivity, reinstall Instagram. The cache is automatically cleared when you uninstall the app, so you don't have to do it manually.
When you reinstall the Instagram app and log into your account after three days, the "Confirm your information" error should be gone!
Read More: How To Switch From Pro Account To Personal Account On Tiktok
Method 1: Complete The Video Selfie Verification
When you see the 'Confirm Your Info On The App' error on your Instagram account, click on the "Video Selfie Verification" option to the right of it. This will launch your phone's camera and prompt you to move your head from left to right. To record your video, follow the instructions on the screen. Once you've finished recording, click the Submit button to finish the verification process and successfully open your Instagram account.
Method 2: Use Another Device
If the above method does not work, try logging in to your Instagram account from a different device to see if that helps you fix the error and return to your Insta handle.
Method 3: Re-install Your App
To avoid the error, you can also uninstall your device and reinstall it from the App Store, then follow the same steps to log in to your account.
Read More: How To Schedule Tweets For Free
Method 4: Re-login To Your Account After A Few Days
If none of the above solutions work, take a 2 to 3 day break and then try to log in again to see if it helps you fix the 'Confirm Your Info On The App' Error On Instagram.
Follow TechR for more informative articles.