How To Fix Instagram Music Isnt Available In Your Region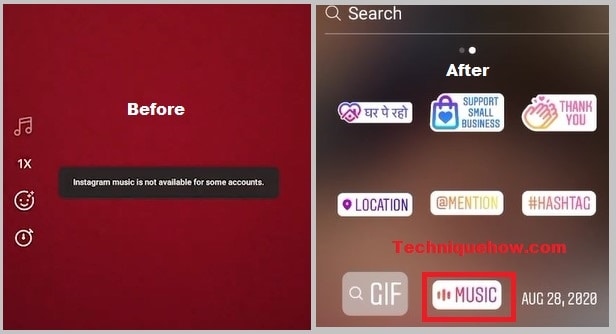 Instagram music is essentially a story sticker that allows you to include music in your Instagram story. The Instagram music sticker is available on both iOS and Android devices, but it is not available in all countries.
If you come across stories with music and the notification that 'Instagram Music is not available in your region' while browsing Instagram, it is simply because the platform has yet to obtain a music license for your region.
Instagram requires a license to play music in order to avoid copyright violations or piracy. After Facebook implemented this feature, the platform worked out a deal with Sony Music, Universal Music, and Warner Music Group to add songs to videos.
Because there is no universal law for copyright and piracy, there are a number of legal procedures that must be followed in regions where the feature is not available. The feature may take some time to become available on a global scale.
Currently, the feature is only available in seven countries: Australia, New Zealand, France, Germany, Sweden, the United Kingdom, and the United States. Fortunately, there is a loophole that allows you to not only listen to other people's musical stories but also create your own. Let's see what you're capable of.
Read More: How To Fix Confirm Your Info On The App
Instagram Music Isn't Available in Your Region: How to Fix It?
Uninstall the Instagram App And Use VPN
Before you get a VPN, uninstall the Instagram app from your device. This is important because the app 'detects' your current location when you launch it for the first time.
After you've uninstalled the app, activate the VPN on your phone.
Once your VPN is activated, go to Google Play or the App Store and reinstall Instagram. Log in to your Instagram account once the installation is complete.
Here's a quick guide to downloading and using a VPN to resolve the 'Instagram Music Isn't Available in Your Region' error:
Search for a free VPN app in the App Store or Google Play.

Download and install the app on your phone.

Connect to a server in the United States, United Kingdom, Canada, or any other country where Instagram music is available.

Close the Instagram app and then reopen it while the VPN is active.

That's all! You can now listen to Instagram music in other people's stories and add it to your own, regardless of where you are.
Third-Party Apps
Music can be added to your stories using third-party apps available on Google Play and the App Store, such as Storybeat or In stories. These apps allow you to add musical stories regardless of where you are.
Read More: What Is a Snapchat Handle
How to Fix The Issue If You're in The Right Location?
It's one thing to encounter the 'Music isn't available in your region' bug if you live in a country where Instagram doesn't support the feature. That is not the case if you are in the United States, United Kingdom, France, Germany, or any other country where the Instagram Music feature is available. What should you do if this is the case?
Update the App
If your smartphone's Instagram app does not update automatically, you should update it manually to avoid missing out on new and important features. An app update may resolve whatever is causing your Instagram issues.
Sign Out of the App, Then Sign In
This may seem obvious, but signing out of your Instagram profile and then signing back in may be beneficial.
Read More: How To Switch From Pro Account To Personal Account On Tiktok
Uninstall and Then Reinstall Instagram
If the 'Instagram Music isn't available in your region' bug persists and the two solutions above haven't helped, it's time to resort to desperate measures: uninstall Instagram from your mobile device and then reinstall it. You can also change from Wi-Fi to mobile data or vice versa.
Follow TechR for more informative articles.