How To Fix PS4 Error WS-37368-7 Best Solution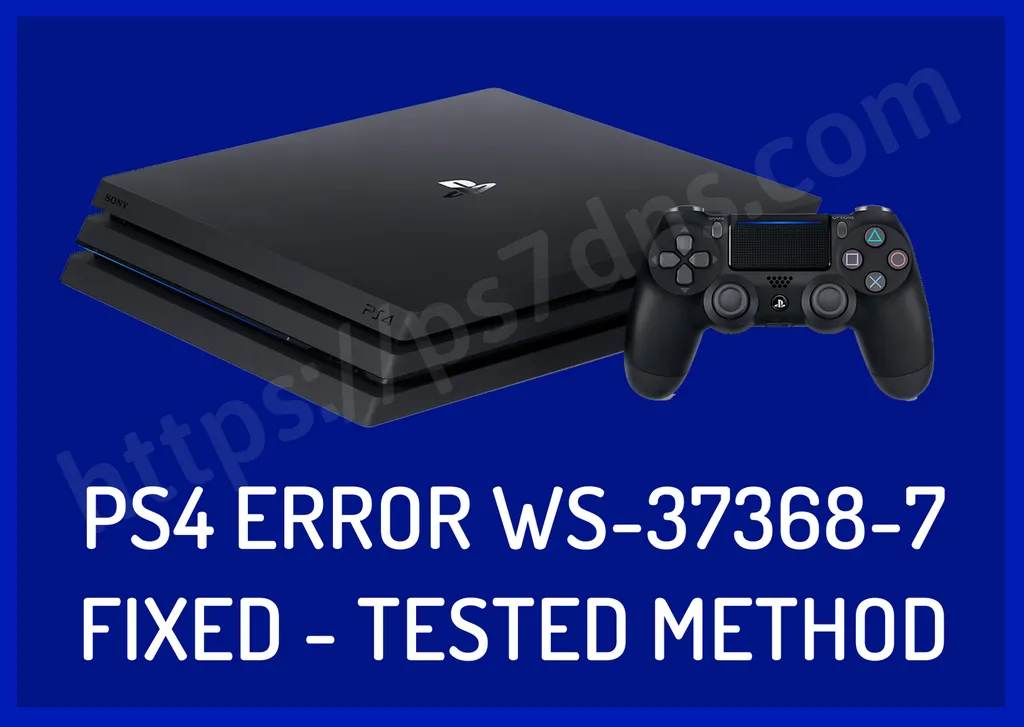 The WS-37368-7 error may prevent you from playing online or doing online transactions on your PS5 based on the intensity of the violation. The WS-37368-7 error does not always imply that your PSN account has been permanently suspended. If your account has been temporarily suspended, you will be unable to use PlayStation Network's online services for a period of time. You will not be refunded if your PSN subscription expires during the ban period. After a certain amount of time has elapsed, the temporary account suspension will be lifted, so all you have to do now is wait.
It isn't much you can do if your account has been permabanned or is permanently banned. Permaban is permanent and cannot be reversed.
Reasons For PS4 Error WS-37368-7
There are several reasons for being banned from the PlayStation Network. There is more than one cause for being banned and receiving the WS-37368-7 error. Your PSN account may be temporarily or permanently blocked if you get this error code. Examine the cause for your PSN account's suspension and the PS4 Issue WS-37368-7 error number. Some of the reasons for your PSN account being banned are listed below:
You may have tampered with the game's results.

It's possible that your account has been hacked.

It's possible that you're playing PS4 games that have been pirated.

You could be playing PS4 games with modifications and hacks.

It's possible that your account was accessed from a different IP address.

It's possible that you bought a used PlayStation 4 system.

It's possible that you've broken the PlayStation Network's Terms of Service and User Agreement.
Read More: How To See Liked Videos On Tiktok
How to Fix PS5 WS-37368-7 error
If you keep getting the WS-37368-7 problem on your PS5, try the remedies listed below
Check For Server Issues.
It's critical to know whether there are any server troubles right now. To do so, go to https://status.playstation.com/ and look at the PlayStation Network server status page.
Run a Speed Test On Your PS5
If no faults have been reported, the next step is to determine where the connection may well have failed. To do so, you'll need to test your PS5's network connection. Here's how to do it:
Go to the Settings menu.

Navigate to the Network.

Go to the Connection Status section.

Select Test Internet Connection from the menu.
Once the performance test is completed, try to locate the source of the failure. PSN, Ethernet, and IP are the three failure spots you'll encounter.
Restart The Router
Another simple troubleshooting step you should do in this case is to reset the router. When network equipment is left operating for an extended period of time or becomes unresponsive, it may stop working correctly.
Before turning on the router, switch it off and disconnect it from the power supply for 30 seconds. Then, before reconnecting your PS5 to the network, ensure that all of the lights are steady. After that, try signing in to PSN to check if the problem persists.
Read More: What Does Clearing Cache Do On Tiktok
Solution for PSN Account Banned PS4 Error Code WS-37368-7
I looked everywhere and checked the forums, and I discovered that hundreds of PS4 players are still experiencing this issue and are unable to find a viable solution to the error number WS-37368-7. As a result, I've written a guide on how to unban a PSN account or solve PS4 Error WS-37368-7. To correct the mistake, use the techniques listed below.
1: Checking The Mail From Sony
If your PSN account is abruptly blocked, check your email inbox first since they will provide you with the explanation for the ban. Your account may be banned if you log in from several IP addresses. Because they believe your PSN account has been hacked and misused.
To have your PSN account unbanned, go to your email inbox and finish the verification process. Within 2-3 working days once verification is finished, you will receive another email. They provide you a confirmation email that the verification procedure has been finished and that your account has been successfully validated and unbanned in this email.
2: Contacting Customer Support
Your PSN account may be banned if you attempt to log in many times with an erroneous password. Because Sony believes someone is attempting to hack into your account by guessing your password, your account has been suspended. After a few hours of trying with incorrect information, you'll get the error WS-37368-7.
In this case, you should call Sony Customer Support and explain the matter in detail. They may ask you some questions to verify your identity. After successful verification, your account will be unbanned in a short period of time. And the WS-37368-7 problem has been resolved, allowing you to quickly access your PSN account.
3: Making a New PSN Account
This is a pretty easy method for resolving the WS-37368-7 problem code. This is a pretty simple technique to resolve this problem code once your account has been permanently banned. Because there is no difficulty with a new account, the error is fixed when you establish a new PSN account.
4: Buy a New PlayStation Console
The error number PSN WS-37368-7 may be repaired when you purchase a new PlayStation 4 console. Perhaps your account was suspended owing to issues with your old PS4 console. If that's the case, try establishing a new user on the new console and attaching it to the same banned PlayStation Network account. If the PSN WS-37368-7 problem number persists, you can delete the banned account and create a new one in your console.
Read More: How To See Who Viewed Your Snapchat Profile
How You Can Secure Your PSN Account & What You Shouldn't be Doing?
Here are some things to remember once you register a new PlayStation 4 account or purchase a new system. If your account hasn't been banned yet, go over each of the following points:
To avoid being hacked, you need to enable 2-Step Verification.

Using pirated games might result in your account being suspended at any moment.

Mods and hacks should not be used in games.

Purchasing a used PS4 system may result in your account being temporarily or permanently suspended.

Buying a PS4 with an existing account and creating a new one can result in your account being banned at any time.

The PlayStation Network Terms of Service and User Agreement must be followed
Follow TechR for more informative articles.